Partner Manufacturers - Product Information
TL-APSX6048VRNET TRIPP-LITE PowerVerter APS X 6000W 48VDC 208/230V Inverter/Charger with Line-Interactive AVR, Hardwired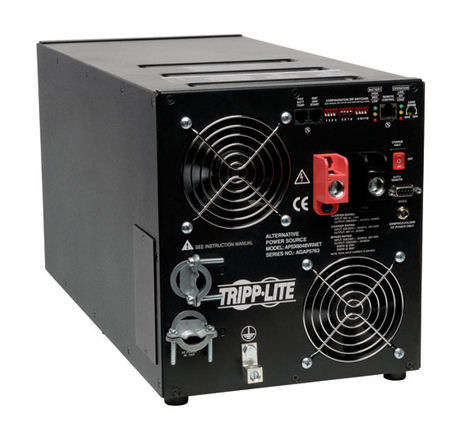 APSX6048VRNET
pmmcom 1015
Description:
TRIPP-LITE PowerVerter APS X 6000W 48VDC 208/230V Inverter/Charger with Line-Interactive AVR, Hardwired

- 48V DC or 08/230V(selectable) AC input; 208/230V, 50/60 Hz, pure sine wave output(hardwired)
- 6000 watts continuous, 9000 watts OverPower and 12000 watts DoubleBoost inverter output
- 3-stage, 23/90 amp selectable wet/dry cell battery charger; Auto Transfer Switching; Automatic Voltage Regulation
- DB9 communication port for SNMPWEBSOLOHV management.
- Excellent for alternative power and standby power needs.
Features:
- Supports 208/230V AC output from a 208/230V AC line power source or 48V DC battery source
- 6000W continuous sinewave AC output in inverter mode
- Double Boost output supports momentary start-up loads up to 200% of the continuous rating for up to 10 seconds(see specification chart) - OverPower output supports longer duration overloads to 150% for up to 60 seconds
- 3-stage, selectable 23/90 amp battery charger with adjustable settings for wet/gel battery types
- Set of 6 front panel LEDs display continuous status information
- Set of 4 dip switches support AC input selection of 230V, selectable 50 /60Hz frequency, and selectable full or half cycle transfer times
- Set of 4 dip switches support wet/gel battery charging profiles, adjustable 260/270V(230V) high voltage auto transfer during overvoltages and selectable 150/60V / 170/180V(230V) AC low voltage auto transfer during brownouts
- Set of 4 additional dip switches support battery equalization program and battery charger low / high settings
- Automatic overload and thermal(overheating) shutoff
- Front panel remote control connector enables remote off/on switching(APSRM4 sold separately)
- Load sensing control dial enables adjustable load threshold required to automatically turn the inverter on and off in DC mode as load conditions change
- Automatic Generator Starter jack enables user configuration of automatic generator start-up as inverter batteries drop to 23.0 VDC and generator shutoff as inverter batteries are recharged to 28.2 VDC.
- Remote battery temperature sensing connection function prolongs battery life by adjusting the charge float voltage level based on battery temperature
- DB9 communication port for SNMPWEBSOLOHV management.



Specification:
Key Specifications
Continuous Output Capacity (Watts) 6000
Output Receptacles Hardwire
Output Nominal Voltage 208/230V
Voltage Compatibility (VDC) 48



Compatible with TRIPP-LITE's APSX6048VRNET a managed device on the network using SNMP network management platform or a web browser.
Not included