Partner Manufacturers - Product Information
SB-PWIQ-E1 Sunbird Power IQ E1 HW appliance. Hardware Platform for Power IQ - Suitable for Installations up to 500 Devices - Incl. 2 Years Standard Warranty


Command Center E1
Description:
Sunbirds Software loaded onto CommandCenter® Secure Gateway (CC-SG) E1 Appliance made by Raritan.

CC-SG is a perfect complement to our Power IQ Power Management Solution and enables power control of devices connected to any PDU managed by Power IQ – without leaving the CC-SG GUI. Plus, data can be synchronized automatically between the two products.

CommandCenter® Secure Gateway (CC-SG) is an easy to deploy, plug-and-play appliance that provides IT administrators and lab managers with a secure, single point of remote access and control. Raritan's CC-SG consolidates multiple access technologies, including REMOTE IP PDUs, Environmental management Hubs, Dominion® KVM-over-IP switches and serial console servers, service processors, and in-band methods such as RDP and VNC
Features:
Centralized Authentication, Authorization, and Logging -
Support for LDAP, AD®, RADIUS and TACACS+ in addition to local authentication and authorization capabilities. Access and control based on user-customizable criteria like time of day, location, application, operating system, department and function. Consolidated logging and audit trail.

Centralized Gateway to Your Entire IT Infrastructure -
Secure, single sign-on to a single IP address for managing all of Raritan's Dominion® KVM-over-IP switches, SX Console servers, PX Intelligent PDUs, and physical and virtual servers. In addition, third party devices such as embedded service processors and remote access software are supported.

Hardened Security Appliance -
CC-SG is a secure platform that delivers peace of mind to IT managers who provide access to vital corporate resources. This low profile, Linux®-based appliance architecture provides secure, end-to-end encryption (256-bit AES), authentication and policy based access of target devices.

Mobile and Java-Free Access -
Access and manage IT resources from anywhere – at work, at home or while traveling. CC-SG's Mobile KVM Client (MKC) enables out-of-band KVM access and power control from mobile devices. Apple iPad and iPhone® with IOS 4.0 or later are supported.

Additional features :

Hardware or Virtual Appliances
CC-SG is available as a rack-mountable hardware appliance or a VMware, Hyper-V or XenServer based virtual appliance. Up to ten CC-SG appliances can work in unison to serve the IT infrastructure access and control needs of the entire enterprise.

Supports High Availability Options
A "cluster" configuration provides appliance redundancy through primary and secondary CC-SG hardware appliances. Raritan supports the VMware "High Availability" and "Fault Tolerance" features for easy-to-use, cost effective high availability.

Universal Virtual Media™ Support
CC-SG supports control of virtual media access policies for systems connected through a virtual media CIM to all Dominion KVM-over-IP devices managed by the CC-SG. This makes it easy to reimage (apply a new OS), boot or upgrade the device remotely.


Audit Trail Reporting
Consolidated logging and audit trail, including detailed activity reports for remediation, security debugging and to help meet compliance requirements.

Web Services API
Available for customers to integrate their own systems with CC-SG. This allows access to CC-SG connected devices and other CC-SG functions from customer applications.

Web Browser Access
Web-based interface to devices and systems via IP address or host name. SSO via the browser for applications that accept automatic username and password entries.


Data Import/Export
CSV files can be imported or exported to help expedite the process of configuring devices, nodes, users, associations and PDUs, or leverage the data already in CC-SG.

Network Neighborhood
A neighborhood of up to 10 CC-SG units can be deployed and work together to serve the IT infrastructure access and control needs of the enterprise.

VMware Virtualization
Streamlined, single sign-on access to your virtualized environment with the ability to remotely access and control virtual machines and issue virtual power commands.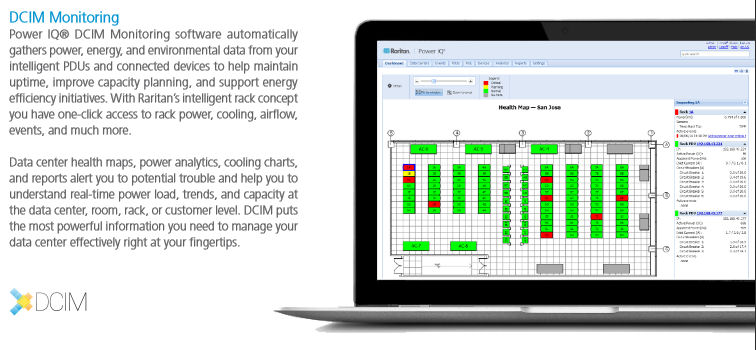 Specification:
Features E1
Form Factor 2U
Dimensions (DxWxH) 17.3" x 27.5" x 3.5"; 699 x 440 x 89 mm
Weight 44.1 lbs; 20 kg
Power Dual Supply (2 x 520 watt)
Operating Temperature 10° - 40° C; 50° - 104° F
Mean Time Between Failure (MTBF) 53,564 hours
KVM Admin Port DB15 + PS/2 or USB Keyboard/Mouse
Serial Admin Port DB9
Console Port 2 x USB 2.0 Ports

Hardware
Processor Intel® Core™ i7-860
Memory 8 GB
Network Interfaces (2) 10/100/1000 Eth. (RJ45)
Hard Disk & Controller (2) 300 GB SATA @ 10,000 rpm, RAID 1
CD/ROM Drive DVD-ROM
Remote Connection
Protocols TCP/IP, UDP, IPv4/IPv6, RADIUS, LDAP, TACACS+, SNMPv3, SMTP, HTTP, HTTPS
Warranty Two years with advanced replacement*, Guardian® extended warranty also available
Software Maintenance One year maintenance free with purchase Additional years can be purchased Software updates available with maintenance