Partner Manufacturers - Product Information
SDX-XT-4P - SmartAVI - KVM Extender, 4-Port DVI Ports, 4-Port CAT5/6, dual head DVI-D, 1920Χ1200, 2 x USB 2.0, with Audio upto 400 ft over CAT5/6 uncompressed *NEW*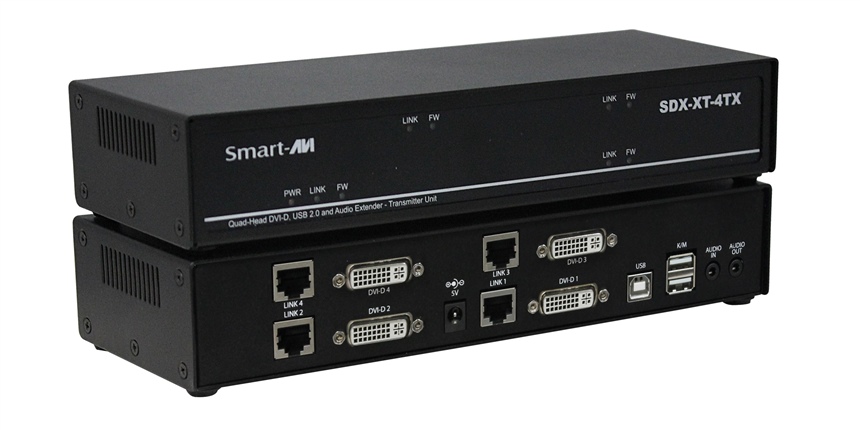 4 Port - DVI KVM Extender
Description:
The SDX-XT-4P is a Dual Head DVI-D (1920x1200), USB 2.0, USB keyboard-mouse and stereo audio extender, sending signals up to 400ft (120m) away over four conventional and inexpensive CAT5/5e/6 cables. This new technology is superior to older DVI extenders that require a special CAT6 shielded cable to go a short distance.

The SDX-XT-4P is the first extender on the market to feature 1920 x 1200, USB 2.0 and full KVM extension on one cohesive system and is optimized for Full HD monitors with crystal-clear picture; excellent for detail driven work.

The SDX-XT-4P extends keyboard-mouse signals for remote workflow management and offers uninterrupted emulation from the user's transmitter unit. This uninterrupted emulation prevents accidental disconnection or deactivation issues during mission critical operations. The SDX-XT-4P's unparalleled KVM extension technology makes it the perfect solution for extending servers in applications ranging from data processing to interactive conferencing.
Features:
• Extends dual DVI-D up to 400 feet from the source
• HDCP Support
• Supports up to 1920 x 1200 digital video resolution @ 60 Hz
• Automatic DDC Learning
• USB Keyboard and Mouse extension
• Uncompressed Video
• External power adapter for transmitter and receiver unit
• Supports Stereo Sound
• Compatible with Windows, Mac and Linux Operating Systems
• Transparent USB 2.0 extension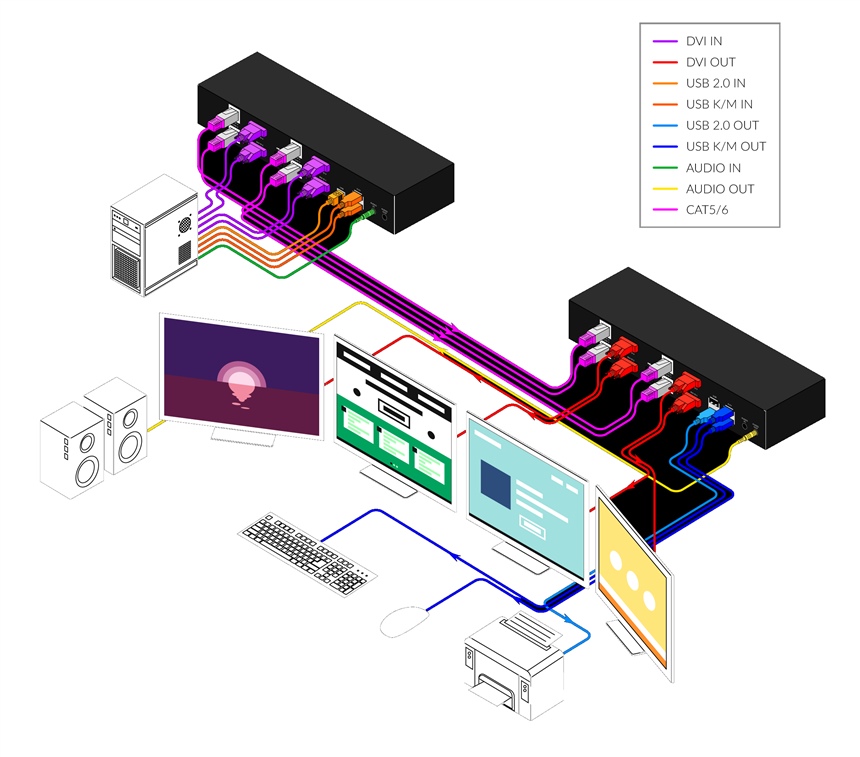 DIAGRAM
Specification:
VIDEO

Format DVI-D (HDMI-ready with adapter)
Video Resolution Resolution: high definition 1920 x 1200
Color Depth: 24-bit color depth
Latency: less than 1 ms
Video Bandwidth Single-link 340 MHz (10.2 Gbps)
Input Interface (TX) (4) DVI-I 29-pin
Output Interface (RX) (4) DVI-I 29-pin
Max Output Distance Up to 1920 x 1200 @ 60 Hz
Equalization Automatic
Input TMDS Signal 1.2 Volts [peak-to-peak]
Input DDC Signal 5 Volts [peak-to-peak, TTL]
Data Rate 1.65 Gbps per color

USB

Input Interface (TX) (1) USB Type B
Output Interface (RX) (2) USB 1.1 Type A for KM Devices;
(2) USB 2.0 Type A Transparent
Keyboard and mouse Keyboard and mouse emulation

AUDIO

Format Stereo
Input Interface 3.5 mm Jack Socket (Female)
Output Interface 3.5 mm Jack Socket (Female)

SYSTEM

Interface RJ-45 Cable
Requirements CAT5/5e/6
Maximum Length 400 ft

POWER

Power 100-240 VAC/ 5VDC @ 3A/15W

PHYSICAL

Dimensions 11.9" W x 1.7" H x 2.9" D
Weight 1.75 lb (per unit)

ENVIRONMENTAL

Environmental Operating Temperature +32 to +104°F (0 to +40°C)
Environmental Operating Humidity 20% to 80% (non condensing)
Storage Temperature -4 to 140°F (-20 to +60°C)
Storage Humidity Up to 95% (No Condensation)

CONFORMANCE

Approvals: UL, CE, ROHS Compliant
Compliance EMC: EMC FCC (Class A), CE (Class A), ICES-003
Environmental Compliance: RoHS2 (CE)

Support Warranty - 1 year


Click here for further information