Partner Manufacturers - Product Information
Rittal Products
Trade Distributor for Rittal

* Become an Authorised Reseller * | * Contact us for Advice & Pricing *
Mediatron has been a UK Rittal distributor for over 20 years knowing the quality and capabilities of supply for your requirements, we are able to add that extra service level for fast quoting of all parts and quick advice on all the additional components you may need, plus the most competitive channel. ( Call for individual or solution pricing 0345 899 8998 )

Rittal IT Rack Systems
VX-IT Server & Networking Cabinets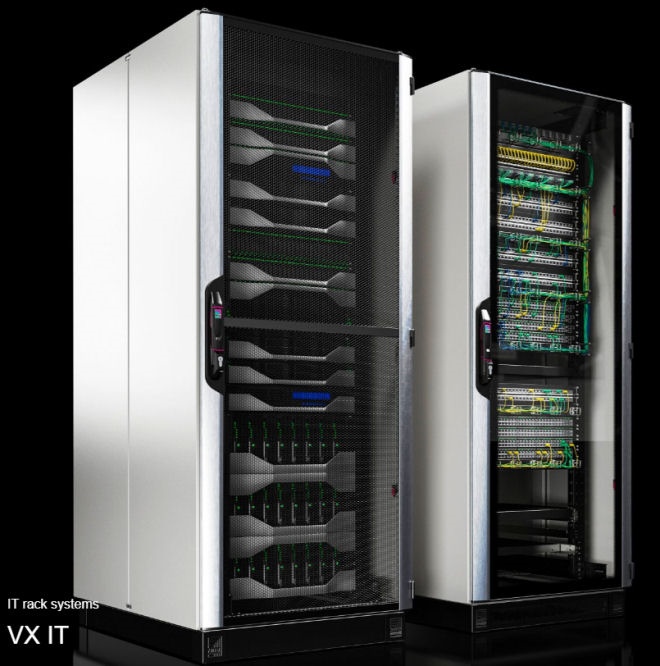 VX-IT Platform & TX-CableNet Platforms
Replacing the older systems of TS-IT platform, TE 8000
Server Cabinets with Vented Door

Filter by Size:

CALL FOR DETAILS AND SPEC ASSISTANCE

Networking with Glass Door

Filter by Size:

4 Compartment (11U x4)

2 Compartment (23U x2)

Server Cabinets with Vented Doors

Filter by Size:

Glass Door Networking Cabinets

Filter by Size:

DISCONTINUED BUT SOME PARTS AVAILABLE

- Data Centre Projects

High Grade Full Spec. Server Cabinets. including vented front and rear doors, adjustable feet and travelling casters

- General Use

- Side Panels are available fitted or supplied separatley.

- Options for baying and Cold Aisle solutions.

- Full cooling options and installation.

- Call us for further infomation, asistance or quoting on: 0345 899 8998

FAST DELIVERY STOCK

Rittal TE 8000 Server Cabinets -

DISCONTIUED BUT SOME PARTS AVAILABLE

- Rittal's SPECIALIST RACKS

DISTRIBUTOR RACKS -OPEN FRAME

COLOCATION RACKS - 2/4 SECTION

CALL FOR DETAILS
---

Rittal Economic Networking Cabinets
TX CableNet

TX- CableNet Model - now replacing the dicontinued TE8/TE7's Network Racks, Wall Boxes,
Rittal TE 8000 Network - Discontinued

See the New TX CableNet

Cabinets Floor standing

- TX CableNet

No more cable spaghetti. This new rack from Rittal combines years of experience and change to the network infrastructure sector into one extraordinary solution. Taking cable management to a new level.

CALL US FOR INFORMATION AND PRICES

Single piece welded construction, designed to support networking infrastructure in either satellite offices or small networks

- Flatbo

Rittals Flat Box / Flat Packed Self Assembly Wall Box Cabinet. The innovative concept behind the FlatBox unites optimised storage and shipping costs with cleverly designed, toolless, fast one-person assembly.
---

Rittal Accessories
Accessories for your Rittal Rack
- Shelf options for multikit support

- Weight Suitability: 50kg / 80kg / 100kg

General Accessories

Special offer prices on for different brands, including manufacturer clearance

- Baffles

- Power Distribution Units (Full Range)

Robust, compact basic power distributor for the IT environment.Thanks to the compact PDU, any IT rack may be easily equipped with a professional power distribution system

- Call us for further infomation, asistance or quoting on: 0345 899 8998
---

Rittal Data Centre Services and System Products
Additional Rittal Products: Cooling & Environmental
Options:

- Call us for further infomation, asistance or quoting on: 0345 899 8998

Options:

- Call us for further infomation, asistance or quoting on: 0345 899 8998
Cabinet delivery and support services.
Please note cabinets are large heavy items and ( BTO ) built to order, also classed as semi fragile due to their size and the possibility of damage in moving. Transportation is expensive due the item size and weights so generally these products are classed as not returnable without the costs being passed to the client.
Full delivery costs may be part hidden as sometimes build in or subsidised by the initial item sale price therefore any cancellation once goods are in transit may result in those full delivery charges and costs to be invoiced to you to cover this. If customers refuse any delivery they may have to pay the additional charges for the delivery attempts and or second delivery as this is a specialist service. Missing parts or damages must be reported asap and then some action can be taken to possible repair or change parts, this will be dealt with on a case by case basis.
Please understand the need to be responsible and reasonable in this understanding when ordering such large or heavy products.
Unloading or loading these products incorrectly may damage these products so only specialist carrier's are used to handle this type of product.
These items shall be delivered to door unless otherwise arranged and on pallet or possibly then onto the travelling casters, either way some trained manual handling may be required by the receiver.