Partner Manufacturers - Product Information
CONV-USB2-DVIHR
USB 2.0 - DVI High Resolution Adaptor ( For a 2nd DVI Video output from a USB Port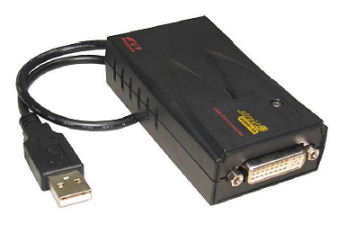 USB2-DVI-I CONVERTER
Description:
The CONV-USB2-DVI HR ( High Resolution ) 1600 x 1200

Adapters allow users to add an additional monitor to a PC.

These adapters even allow users to add multiple additional monitors to a PC, up to a maximum of six (using six separate product units).
Installation is easy, install driver, connect a monitor to the unit then connect to the PC then you're ready to enjoy multiple windows on the multiple monitors. The connected monitor(s) can be configured to either clone your primary screen, or extend the Windows desktop allowing visibility of more applications at the same time.
Features:
Allows one PC to connect to two screens and display two separate programmes from the one PC. Basically it can be used to show the same screen, or to extend your computer desktop onto a secondary monitor.



Specification:
Compatible with:


• PC with 1.2 GHz or higher Processor
• 512 Megabytes of RAM
• At least one USB 2.0 port
• 30 MB of available disk space
• Super VGA (800 x 600) or higher resolution video card and monitor
• CD-ROM or DVD drive.
The included software can be installed on any desktop or laptop system running
Windows XP (Service Pack 2) Home or Professional.
There is no driver support for other platform or previous Windows versions.
The USB2-DVI & USB2-DVIHS Adapters allow users to add additional monitors
to a PC, up to a maximum of six (using six products).
Installation is easy, install driver, connect a monitor to the unit then connect
to the PC then you're ready to enjoy multiple windows on the multiple
monitors. The connected monitor(s) can be configured to either clone your
primary screen, or extend the Windows desktop allowing visibility of more
applications at the same time.
The minimum hardware requirements for a PC capable of displaying a DVD on the
monitor with the DVI Adapter connected are:
• PC with Dual CPUs and 2.0 GHz processor
• 512 Megabytes of RAM or more if other applications are to running
• Set the resolution of monitor with the DVI Adapter connected to 800 x 600 @
16 bit colour.


USB2-DVIHS
1600 x 1200, 8 or 16 Bit



Package Contents:-

1. USB 2.0 DVI Adapter x 1
2. User's Manual x 1
3. CD with the driver and user's manual x 1