Partner Manufacturers - Product Information
Raritan AUATC (ASCII Terminal Converter ) for ASCII Serial device to local PS/2 or Sun User ports & UTP link so compatible CIM for Paragon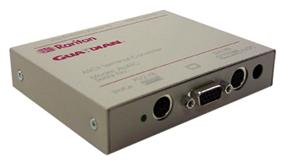 Raritan AUATC ( ASCII Terminal Converter)
Serial - PS/2
Description:
The Raritan AUATC ( ASCII Terminal Converter) connects each ASCII / Serial Device to local KVM PS/2 or Sun User or KVM Switch interface. Also works with the URKVM ( Cat5 Reciever) over standard single Cat5 Cable.



Features:
AUATC (for ASCII/serial device)

- Operate UNIX servers, router and hubs from PS/2 keyboard and VGA Monitor or Sun Keyboard and monitor emulating an ASC11 text terminal.
- Auto sensing- PS/2 or Sun
-Stores 8 Pages of datain a buffer; provides functions to review, edit, copy and resend to computer.
-User selectable baud rate and 12 programmable function keys to store frequent used character string commands.
-Control ASC11 devices from a central keyboard and monitor from a suitable KVM switch.
-Add remote access upto 200 Mtrs away with Raritans Cat5 Reciever ( URKVM ) using Category 5 UTP Cable.

Specification:
Input Port: D25 (F)
User Ports: 6MCC (F) 8MCC (F) & HD15 Video (F)
Category 5 Port : RJ45 ( For use with compatible product URKVM )

Dimensions:
4.3" (W) x 3.6" (D) x 1.0" (H)
108mm (W) x 91mm (D) x 23mm (H)
Weight:
0.7 lbs / 0.3 kg

Power Supply External 6V DC / not supplied
Also can be powered by Part No. EBPWR EB102 power adapter with 2.1 mm plug USB DC cable 5V/2.1A

End of life limited stock.