Partner Manufacturers - Product Information
USB-RS232CONV-E USB - Serial D9 RS232E Converter on 45 cm Cable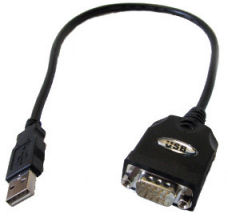 USB-RS232E Converter
Description:
USB Serial Converters operate as a connection between one USB port to a 9 Way RS232 Serial Device.

USB Plug and Play Serial Converter.
Allows users to connect RS-232 9 Way Serial Device to existing USB Ports,
For use with: Modems, Digital Cameras, GPS Devices, Scanners, PDA's etc

USB Host Powered, No external power needed.
Supports Serial speeds up to 600 Kbps
Windows 98/98SE/2000/ME/XP with a minimum of 16 Mb of RAM.
Features:
• Compact dongle short 45cm cable style.

• Compliant with the USB 1.1 Specification
• 600 Kbps Transfer rate
• Plug and Play compatibility
• Driverless installation with Windows XP, Vista & Win 7
• USB host device drivers supplied.
•Prolific Chipset PL2303HXD
•Host Drivers: Driver supplied with product, compatible with Windows 98SE/ME/2000/XP/Vista/Windows 7 32&64-bit and Mac OS 9.0 or above

Specification:
• Compliant with the USB 1.1 specification
.• Connector:
• Upstream Port: USB type A Plug (Male) Total Length 45 cms.
• Downstream Port: D-Sub 9 Pin Connector. (Male)
• Host Interface: USB BUS
• I/O base address assigned by plug and play systems
• Interrupt number assigned by plug and play systems.
Host Drivers: Driver CD supplied with product, compatible with Windows 98SE/ ME/2000 and XP Mac OS 9.0 or above
•Prolific Chipset PL2303HXD
•Host Drivers: Driver supplied with product, compatible with Windows 98SE/ME/2000/XP/Vista/Windows 7 32&64-bit and Mac OS 9.0 or above