Partner Manufacturers - Product Information
PEX-16IND-C19-01 16Amp IND309 Plug - C19 Socket Extension cable 1 Mtr
( 16Amp IND309 Adaptor )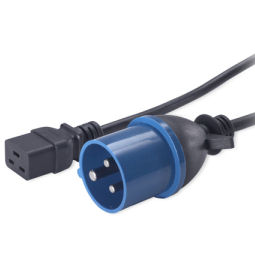 IND 309 16AMP Commando style connectors and C19 Connector types as on cable
Description:
16 Amp IND309 Plug - C19 Socket. 240V Mains Power extension cable.

Adaptor cable Commando 16 Amp to C19 IEC connection


Please note as this item is not fused the total current should not be taken above 16 AMP which is the max rating of the IND 309 16 Amp and C19 Connectors.
Features:
- 16 Amp IND309 Plug - C19 Socket Mains Power connection and extension cable.

- Allows a PDU or device with C20 Plug to be connected into an IND309 16AMP Socket typical on Underfloor power supply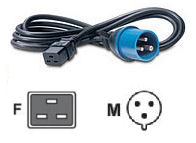 IND 309 16AMP Commando style connector to C19 IEC Connector Cable
Specification:
16 Amp IND309 Plug - C19 Socket IEC 320 ( 16 Amp at 240 volts )

Conductor Core size 1.5mm minimum

Connection Adaptor Cable
Rated 16 Amp Maximum

Length 1 Mtr


( A customised version of this cable fitted with a 32Amp IND309 instead of 16 Amp IND309 can be made to order however these cables would be rated at 16Amp maximum and responsibility by the user must be taken to not exceed 16Amp, better methods with breaker are suggested if this is a requirement by the use of port splitters see compatible parts )