Partner Manufacturers - Product Information
CONV-DVI-HDMI DVI (Plug) - HDMI (Socket) adapter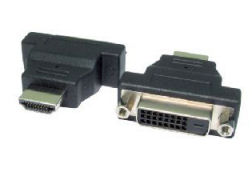 CONV-DVI-HDMI
Description:
CONV-DVI-HDMI Converter DVI (Plug) - HDMI ( Socket ) adapter

Compact converting adaptor for converting a HDMI Plug cable end to fit in to a suitable DVI socket.

Please note this adaptor is suitable for Digital DVI-D only

The HDMI to DVI-D adaptor passes HDMI signals through to the compatible pins in the DVI-D spec for use with DVI-D equipment. Single Link
Features:
Compact Adaptor / This Monitor Adaptor/ Converter has DVI Male to HDMI Socket

Moulded construction
Shielded inner.

Specification:
Monitor Adaptor

Connectors:
24+1 version ( 24 + horizontal flat pin type) DVI-D Socket to HDMI Plug.

HDMI to DVI-D adaptor
HDMI 19 pin
DVI-D 25pin connector
Gold flashed contacts
Black shell

Changes pinouts only

Please note while this uses the DVI-D 25pin dual link connector this is single link.