Partner Manufacturers - Product Information
PSU-RPS-5V 12V to 5V CONVERTER DONGLE only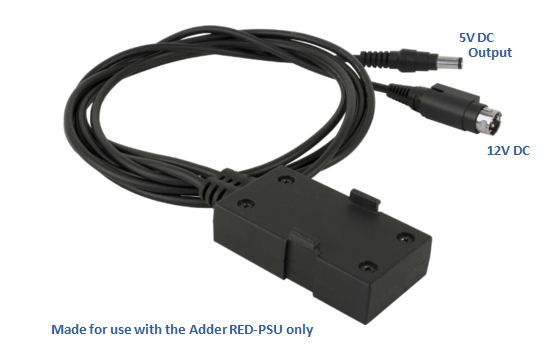 PSU-RPS-5V PIC Short lead dongle version pictured.
Description:
12V to 5V CONVERTER DONGLE

Adder PSU-RPS-5V is an inline Cable Power Converter Dongle (Converting connector and voltage from 12V to 5V DC ) Made for use with the Adder RED-PSU rack power supply.
This enables devices than require or have only the smaller 5v DC connection can be supplied power from the Adder RED-PSU PDU allowing greater space saving and control and redundancy to that equipment which would normally only have an individual PSU.
The supply end for connection to the RED -PSU is the locking KyconŽ 3-pin plug.
Although the RED-PSU and these adaptors was made originally for the Adder Infinity range of products these can be used for many other devices that require the same power type.

Features:
ADDER 12V to 5V CONVERTER

Specification:
ADDER PSU-RPS-5V 12V to 5V CONVERTER DONGLE only

12V to 5V CONVERTER DONGLE

Input locking KyconŽ 3-pin plug.
Output DC 5V (5mm) Connector


Made for use with the Adder RED-PSU only