Partner Manufacturers - Product Information
QV-4KVMDVI-QF - Rose - QuadraVista QF - Multiviewer - '1X4' 4 HDMI/DVI/VGA Inputs + Digital Audio Audio from HDMI Full PIP and WIN display modes (USB 2.0)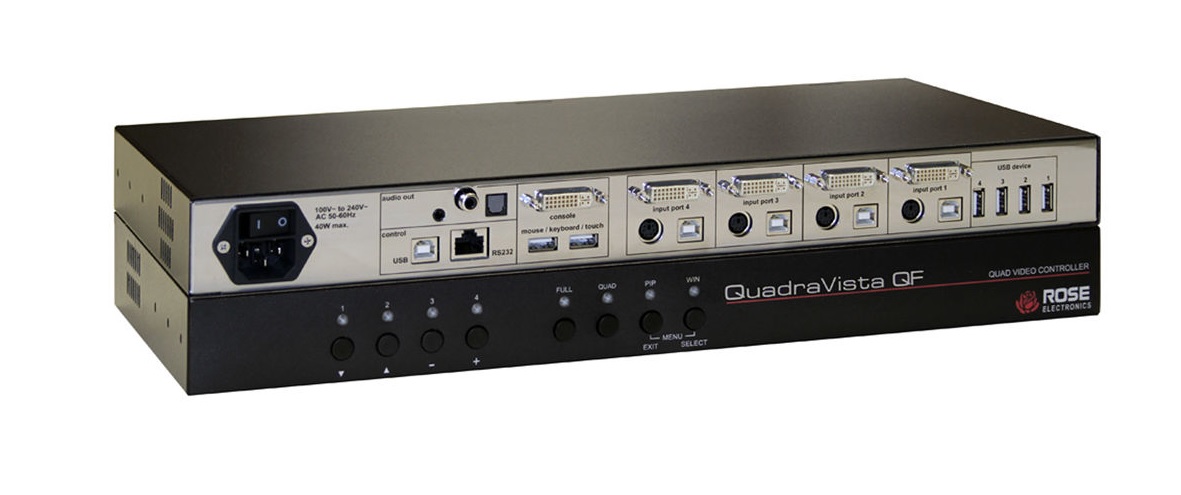 QuadraVista QF
Description:
QuadraVista QF is one of the most powerful and versatile multiviewers available today, allowing a single user to simultaneously view and control up to four HDMI, DVI, or VGA sources on one monitor at a crystal clear high definition resolution of up to 1920 x 1200. It displays perfectly real time video, animated displays, simulation graphics, and highly detailed CAD designs. QuadraVista QF comes with several optional upgrades and features enabling it to conform to almost any media application.

Each one of the four individual displays permits a high degree of customization, allowing the user to adjust the size, background, label, and layers, as well as rotate and crop the video sources. Video input can be displayed in four different modes, including full screen, quad screen, picture-in-picture, and Win Mode. Both digital and analog audio are supported to accompany the video source. QuadraVista QF supports USB and PS/2 based computers, as well as USB hubs for the addition of peripherals such as printers, cameras, and storage devices.
Features:
• Connect four VGA, DVI, or HDMI sources with PS/2 or USB keyboard/mouse

• Supports 10-bit color for maximum video clarity

• Display video sources in quad, PiP, full, or windowed mode with name of source

• Switch a USB 2.0 device or Dolby 7.1 output from any computer

• Can be controlled from keyboard, mouse, front panel, USB, serial port, or touchscreen

• Audio input from HDMI sources, digital and analog audio output

• Four USB 2.0 ports for printers, memory sticks, and other high speed devices

Applications:

The QuadraVista-QF is designed for use in NOC and
Control-Desk applications where multiple video
sources need to be selected, switched and displayed
on a large screen or video wall, with independent
keyboard, mouse or touchscreen control over the
video source devices.

Touchscreen Control The QuadraVista-QF can
be controlled using a USB Touchscreen. Access
and control each device using a touchscreen while
displaying 4 or 16 video sources on a single
monitor, The touchscreen function also operates
on Windows displayed in Win, PiP and QuadModes.

USB2.0 Matrix The QuadraVista-QF features a
4-port transparent (high-speed) USB2.0 hub,
allowing USB devices such as print readers,
memory sticks, webcams and DVD Drives to be
shared between the connected devices. Files can
be copied between connected devices via the
USB2.0 port.

Hotmouse Control QuadraVista's unique
"HotMouse" uses a "numbered arrow" to allow quick
and easy control of the QuadraVista-QF in all
operational modes. The keyboard still functions when
"HotMouse" is in use.

Installation and Operation QuadraVista-QF
includes a powerful menu driven OSD for full
control and operation. No software drivers or
external controlling CPU's are required.

Choose from 7 different levels of security settings
for admin and operational control.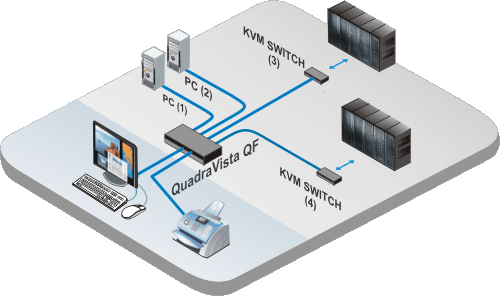 QuadraVista QF 'DIAGRAM'
Specification:
Dimensions

(W x D x H) 17.16" x 9.2" x 1.75" (436 x 234 x 44.5 mm)
Weight 6.4 lbs (2.9 kgs)
Power 100-240 VAC 50-60Hz / 25W
Resolution HDMI/DVI: 1920 x 1200
VGA: 1920 x 1200
Distance CPU/KVM: 25 feet (7.6m)

Connectors

Computer ports:
DVI/VGA video in: Four DVI-I
Audio in: Four DVI-I via HDMI
USB: Four USB type B
PS/2 keyboard and mouse: Four PS/2 mini-din6F

Console port:

DVI/VGA video out: DVI-I
Analog audio output: 3.5 mm stereo jack
Digital audio output: S/PDIF, RCA digital coax
USB Keyboard, Mouse, Touchscreen: Two USB Type A
USB 2.0 Device: Four USB Type A

Other:

RS232 serial control: RJ45
USB control: USB type B
Power: IEC 320

Controls

Computer select: Green/Yellow LED per port
Full status: Green LED
Quad status: Green LED
PiP status: Green LED
Win status: Green LED
Computer select/Display mode control/OSD control: 8 push-buttons

Environment

Operating temperature: 41°F–113°F (5°C–45°C)
Storage temperature: -13°F–140°F (-25°C–60°C)
Relative humidity: 5%–85%, non-condensing


Click here for further information