Partner Manufacturers - Product Information
SUA1500RMI2U APC - Smart-UPS, 1500VA, APC-RMI Line Interactive Rackmount 2U (UPSB1-3) 1.5vka (NOT AVAILABLE IN THE UK)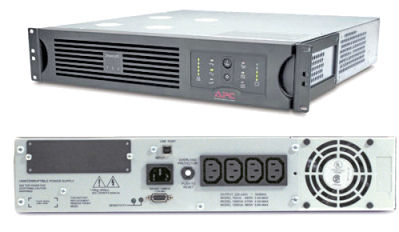 APC SUA750RMI2U same unit style for 1000 and 1500 VA
Description:
APC Smart-UPS 1500VA USB & Serial RM 2U 230V

APC Smart-UPS, 980 Watts / 1500 VA,Input 230V / Output 230V, Interface Port DB-9 RS-232, SmartSlot, USB, Rack Height 2 U

Includes: CD with software, Rack Mounting brackets, Rack Mounting support rails, Smart UPS signalling RS-232 cable, USB cable, User Manual

Performance power protection for servers, and voice and data networks.

APC Smart-UPS® protects critical data by supplying reliable, network-grade power in either traditional tower or rack-optimized form factors. Award-winning Smart-UPS® is the perfect UPS for protecting business critical servers, voice and data networks, point of sale, retail/bank back office and ATM's. High real power output (watts), generous runtime, sine wave output, 16-segment LED visual display, and intelligent battery management make Smart-UPS the leading server class UPS. Included PowerChute® management software provides IT administrators the comfort of safe system shutdown and advanced UPS management. Additional manageability is available through the SmartSlot, an internal accessory slot that allows installation of optional accessories to enhance the performance of your UPS. Designed and manufactured by APC and fully backed with free 24x7 technical support, Smart-UPS remains the industry standard for all network UPSs. With over 10 million units installed worldwide and over 15 years of proven performance, Smart-UPS is a UPS businesses trust for their critical applications.
Features:
USB connectivity- Provides management of the UPS via a USB port (not available on all models).
Front-access servicing- Simplifies installation and maintenance while minimizing space requirements.


Specification:
Output
Output Power Capacity- 980 Watts / 1500 VA
Max Configurable Power- 980 Watts / 1500 VA
Nominal Output Voltage-230V
Output Voltage Note- Configurable for 220 : 230 or 240 nominal output voltage
Output Voltage Distortion- Less than 5% at full load
Output Frequency (sync to mains)- 47 - 53 Hz for 50 Hz nominal,57 - 63 Hz for 60 Hz nominal
Crest Factor- up to 5 : 1
Waveform Type- Sine wave
Output Connections - (4) IEC 320 C13 and (2) IEC Jumpers

Input
Nominal Input Voltage- 230V
Input Frequency- 50/60 Hz +/- 3 Hz (auto sensing)
Input Connections- IEC-320 C14
Input voltage range for main operations- 160 - 286V
Input voltage adjustable range for mains operation- 151 - 302V

Batteries & Runtime
Battery Type- Maintenance-free sealed Lead-Acid battery with suspended electrolyte : leakproof
Typical recharge time- 3 hour(s)
Replacement Battery- RBC24
RBC™ Quantity - 1
Typical Backup Time at Half Load- 26.5 minutes (490 Watts)-
Typical Backup Time at Full Load- 7.4 minutes (980 Watts)

Communications & Management
Interface Port(s)- DB-9 RS-232,SmartSlot,USB
Available SmartSlot™ Interface Quantity- 1
Control panel - LED status display with load and battery bar-graphs and On Line : On Battery : Replace Battery : and Overload Indicators
Audible Alarm- Alarm when on battery : distinctive low battery alarm : configurable delays
Emergency Power Off (EPO) - Optional

Surge Protection and Filtering
Surge energy rating- 480 Joules
Filtering - Full time multi-pole noise filtering : 0.3% IEEE surge let-through : zero clamping response time : meets UL 1449

Physical
Maximum Height- 89.00 mm
Maximum Width- 432.00 mm
Maximum Depth- 457.00 mm
Rack Height- 2U
Net Weight- 28.64 KG
Shipping Weight- 31.91 KG
Shipping Height - 254.00 mm
Shipping Width- 594.00 mm
Shipping Depth- 603.00 mm
Color- Black

Environmental
Operating Environment- 0 - 40 °C
Operating Relative Humidity- 0%
Operating Elevation- 0-3000 meters
Storage Temperature- -15 - 45 °C
Storage Relative Humidity- 0%
Storage Elevation- 0-15000 meters
Audible noise at 1 meter from surface of unit- 46.00 dBA
Online Thermal Dissipation- 171.00 BTU/hr

Conformance
Regulatory Approvals
C-tick,CE,EN 50091-1,EN 50091-2,TUV,VDE
Standard Warranty
2 years repair or replace
Environmental Compliance
RoHS 7b Exemption