Partner Manufacturers - Product Information
ATN-ECO-DC - Aten Eco DC - Energy & DCIM Management Web GUI / Power Management Software (ECO-DC)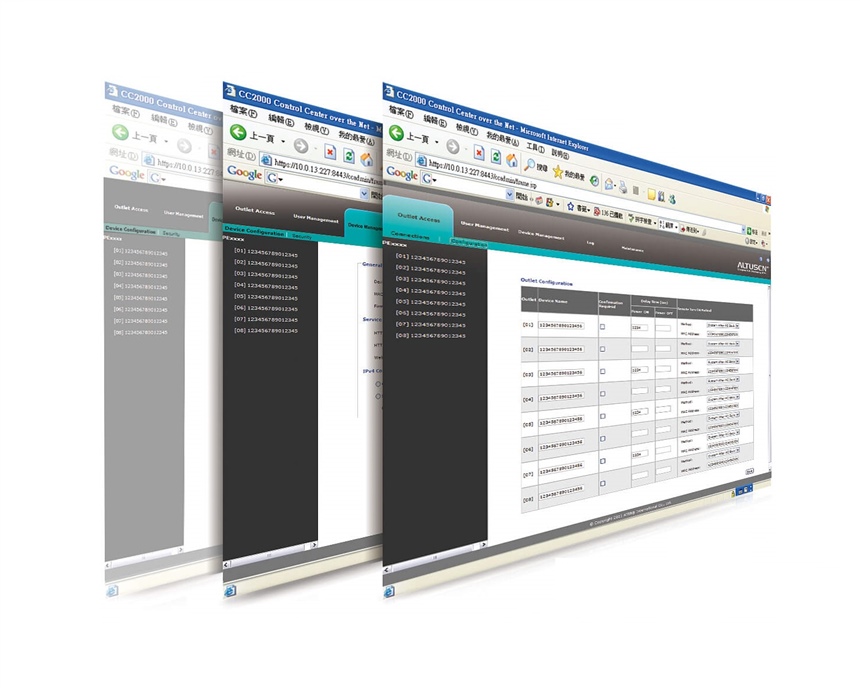 Aten Eco DC - 'Energy & DCIM Management Web GUI'
Description:
ATEN's eco DC perfectly synergize with NRGence• Energy Intelligence PDUs to provide the mechanisms to optimize your energy needs. eco DC and PDU can measure the Dynamic Rack Cooling Index (RCI) and Return Temperature Index (RTI). This allows data centers to analyze the operational efficiency of equipment versus the cost of cooling, in order to better manage power allocation. These indexes have been incorporated into the U.S. Department of Energy DC Pro software tools for data center energy assessments and the Data Center Energy Practitioner program.

Using ATEN's NRGence• Energy Intelligence PDU and eco DC, an administrator's data center is equipped with real time monitoring, measurements and EnPIs analysis that produce reports of power usage, PUE, RCI and RTI to meet the ISO 50001 requirements. With these critical indexes, you can generate customized reports about your data center's energy usage that include energy saving suggestions. Following these suggestions allows you to optimize energy usage and save energy without harming the IT equipment's reliability.

Eco DC is the new Web-based GUI that allows users log in to manage and control PDUs through web browser. No additional install or setup needed. Eco DC can run under any platform and OS. Users can easily manage the power consumption of the data center through intuitive interface and graphics.

ATEN's eco DC is available in a Server and Client version. The Server version offers the full functionalities and is capable of managing the PDUs through SNMP and managing client nodes through TCP/IP. This allows multiple users to log in to the server node and manage PDUs in different authorized zones, making distributed PDU management much more efficient under one centralized environment. With the Client version, users can log in to a server node to monitor PDU status and control each outlet on the PDUs. Having the eco DC Server and Client version allows data centers to optimize their performance and centralize management with ease.
Features:
• Automatic discovery of all PE devices within the same intranet

• Remote real-time power measurement and monitoring

• PDU level current / voltage / power dissipation / power consumption

• Outlet ON / OFF / Recycle status

• Second window to monitor a data center's PUE, RTI, RCI, Power, Carbon Footprint and rack status

• Remote real-time power outlet management*

• Power outlet ON / OFF / Cycle switching by outlet or user-defined group

• Power outlet ON / OFF / Cycle switching with pre-defined schedule

• User-defined outlet level delays for sequential power up

• Current / Voltage / Power Dissipation / Power Consumption threshold level settings

• User access assignment for every outlet

• Name assignment to individual outlets

• Remote real-time environment sensor monitoring

• Temperature / Temperature + Humidity / Temperature + Differential Pressure readings

• Temperature and Humidity threshold level settings

• Plotting / Monitoring of all PE devices

• Add data center server racks

• Add PE devices for each server rack

• Manage device/device outlet status for each plot

• Offers essential data center indices including Rack Intake Temperature, Rack Exhaust Temperature, Rack Equipment Temperature Difference, RCI (Rack Cooling Index), RTI (Return Temperature Index), RHI (Rack Humidity Index), RPI (Rack Pressure Index), RAI (Rack Airflow Index)

• Power analysis report for optimizing data center energy management – including power usage, power load, power cost, CO2 cost, power capacity and trends

• Exceed threshold alert through SMTP and System log

• 1024 line event log

• System log provision

• Two-level password security

• Strong security features: password protection / advanced encryption technologies (128 bit SSL)

* Not all functions are supported by all eco PDU PE models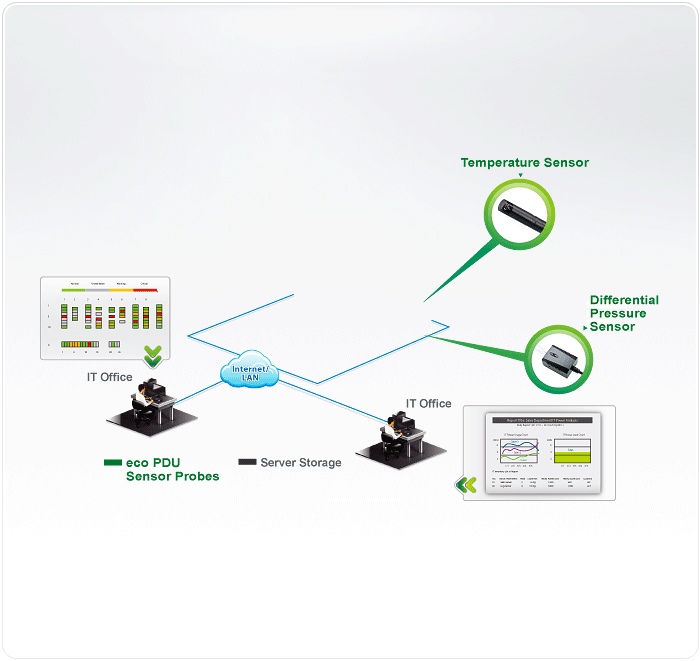 Aten ECO-DC (Diagram)

Specification:
Max PDU number 3000
Data Center Layout 45 x 30
Max RACK Number 3000
Max Zone Number N/A
Power Report Data 3 years
Real Time Dashboard Data N/A

Note - For some of rack mount products, please note that the standard physical dimensions of WxDxH are expressed using a LxWxH format.


Click here for further information